Become a Member
Click here for a Printable Membership Application Form.
Membership in the Pasadena Civil War Round Table insures that you will
get regular updates on our activities as well as other Civil War related activities of interest.
The small annual membership fee allows the Pasadena Civil War Round Table to meet various expenses related to our website and many other expenses related to bringing the best speakers we can to Pasadena. Join us and participate in this exciting opportunity to be a part of exploring the history of our nation.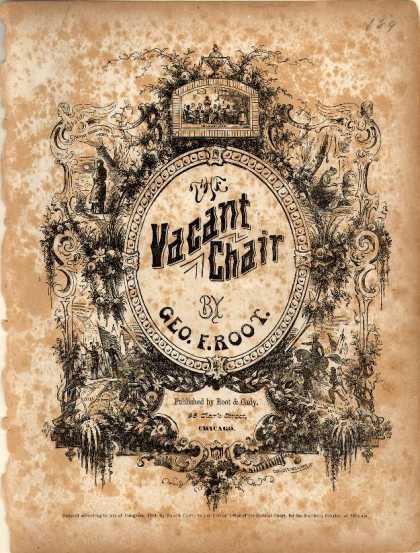 "We shall meet, but we shall miss him, and there will be one vacant chair . . .
. . . waiting for you at the Pasadena Civil War Round Table"
Note: The song, The Vacant Chair, was first a poem written by Henry Washburn to commemorate the death of Lt. John William Grout of the 15th Massachusetts Infantry, who was killed at the Battle of Ball's Bluff. George F. Root put the poem to music and it became one of the most popular songs during the Civil War in both the North and the South.
---
Meetings are held monthly on the fourth Tuesday of each month at 7:15 p.m. (Pacific Time). CLICK HERE for upcoming presentations.
To answer the call and join the ranks, send your annual enlistment bounty of $25 individual or $30 couple (one newsletter to same address).
Post your bank draft, payable to:
Pasadena Civil War Round Table
P. O. Box 743 – Pasadena, CA 91102
Simply type in your information below and click the submit button. Questions?? Contact Janet Whaley, Board Member at PasadenaCWRT@gmail.com or (626) 664-6627.
Please feel free to pay or renew your membership online or simply make a donation to the Pasadena Civil War Round Table
The Pasadena Civil War Round Table is an exempt organization as described in Section 501(c)(3) of the Internal Revenue Code. Your contribution, minus $10.00 for the cost of the monthly newsletter, is tax-deductible as a charitable donation on your annual tax return.
---
For online memberships simply click the BUY NOW button below and become a supporting member of the Pasadena Civil War Round Table:
For your convenience, you may also elect to click the SUBSCRIBE button to have your membership payment automatically occur annually (you may unsubscribe at any time - see below).
Click here if you wish to UNSUBSCRIBE from your annual payment.
If you would like to pay both membership dues and an additional donation to the Pasadena Civil War Round Table, please CLICK HERE