Next Presentation

JOIN US IN PERSON ON TUESDAY, JUNE 27, 2023, AT 7:15 P.M. (Pacific Time)
FOR A PROGRAM ON "PORTRAYING ELY PARKER"
WITH Living Historian Max Harsha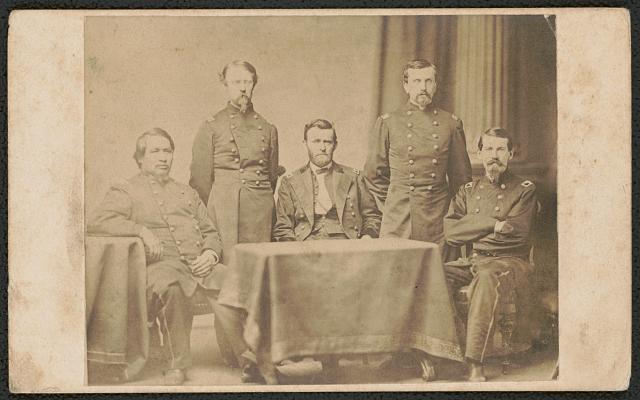 General U.S. Grant with his staff (left to right)
Brigadier General Ely Samuel Parker, Colonel Adam Badeau, Major Orville Elias Babcock, and Colonel Horace Porter
(image courtesy Library of Congress)
Hasanoanda (Ely Parker) was a Native American peace chief or Sachem of the Seneca Iroquois during the 19th century. He also rose to the rank of Brigadier General, the highest rank of any Native American in the Union Army during the Civil War. Parker served on the staff of General U.S. Grant and was a key participant at the surrender at Appomattox. Our speaker, Max Harsha, will be discussing the life of Ely Parker and the numerous resources attained throughout his research. On display will be pieces of Max's collection related to Ely Parker's portrayal.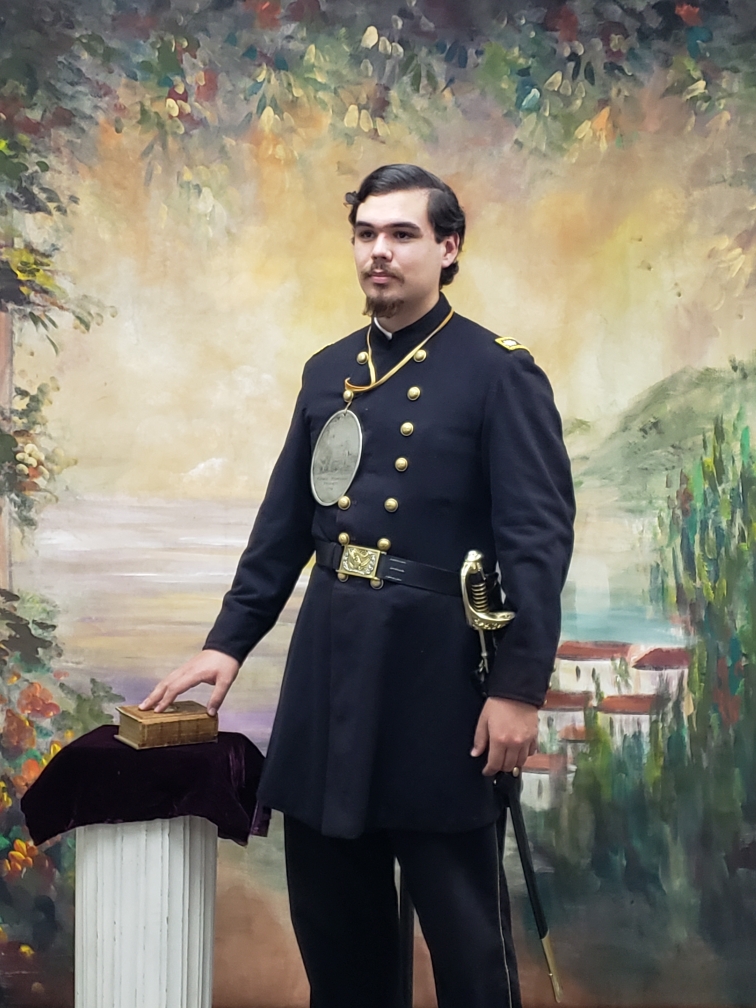 Max Harsha is a four-year scholar of Ely Parker and the Haudenosaunee, known to most as the Iroquois. He has studied numerous accounts, stories, biographies, and personal writings relating to the Native American way of life in the 18th and 19th centuries. As a certified descendant of the Morongo Band of Mission Indians, he personally takes on the responsibility of retelling the stories of not only his tribe but of others to keep their memories alive. With the counsel of tribal members, leaders, and historians, Max has defined the saying "Seek peace through understanding" as the fundamental purpose for his presentations. He has also portrayed Ely Parker and other Native American leaders for public events and video documentaries.
---
Thanks to the volunteer efforts and expertise of our Pasadena CWRT members, Tina Miller and Monika Skerbelis, we are now able to record our monthly meetings and post the videos to our YouTube Channel for your enjoyment and edification if you are unable to join us for our live meetings. We invite you to check out the videos from our two years of virtual meetings, as well as our most recent presentations, at our YouTube Channel: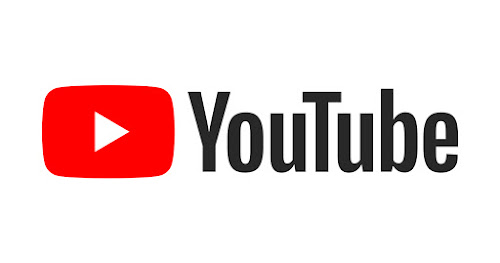 We are indebted to Tina and Monika for helping us to bring this wonderful added benefit to allow our non-local members and guests to enjoy the presentations of our distinguished roster of speakers.
---
PLEASE JOIN US FOR OUR IN-PERSON MEETING:

Pasadena CWRT - TUESDAY, JUNE 27, 2023 - 7:15 PM (Pacific Time)
JOIN US IN OUR MEETING LOCATION AT THE HISTORIC BLINN HOUSE, HEADQUARTERS OF PASADENA HERITAGE:
160 North Oakland Avenue - Pasadena | Free parking in the rear | Enter through rear door
(enter parking lot at 165 North Madison Avenue, second driveway south of Walnut Street)
For a map to our meeting location, CLICK HERE.
PLEASE LIKE US ON FACEBOOK:

FOR MORE INFORMATION OR TO BE ADDED TO OUR MONTHLY EMAIL LIST:
Contact Janet Whaley, Program Chair
PasadenaCWRT@gmail.com or 626-664-6627